Phasmophobia is a video game that allows players to embark on ghost hunting quests and encounter beings. The Phasmophobia inspired map takes inspiration from this game offering an adventure of catching ghosts, with your friends. However be cautious as these spectral entities are not friendly and will use their abilities to impede your progress.
To enjoy this map make sure you have Minecraft version 1.19 or a recent update installed.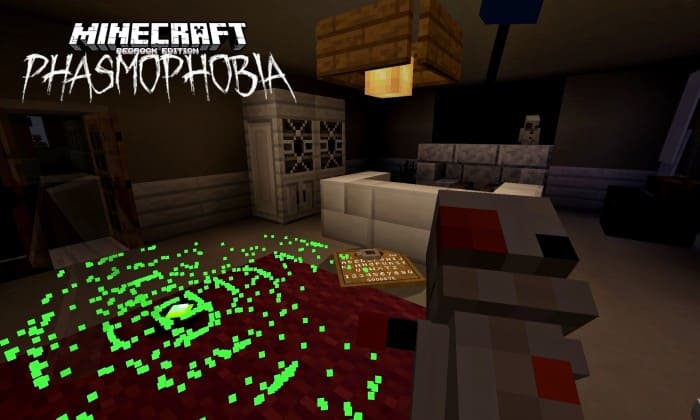 Features
Single and multiplayer modes
More than 10 unique items
A well-developed store
7 maps
Detailed environment
Detailed textures in the Minecraft style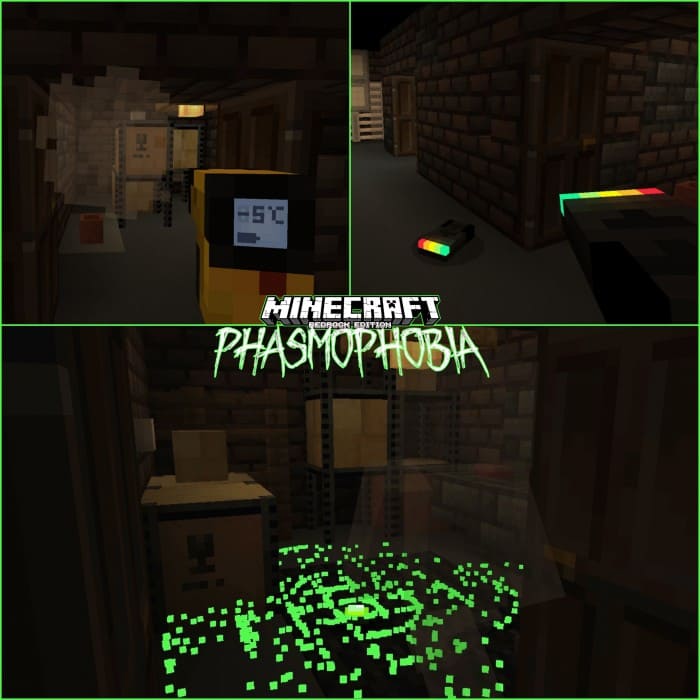 New items
Flashlight
EMF-Reader
Spirit Box
D.O.T.S.-Projector
Ghost Writing Book
Tripod
Video Camera
Photo Camera
Thermometer
Lighter
Candles
Smudge Sticks
Glow Stick
Mystery Box
Thermometer
Voodoo Doll
Musicbox
Evidence Book
(Ghost Hunting Guide)
(Ghost Types Guide)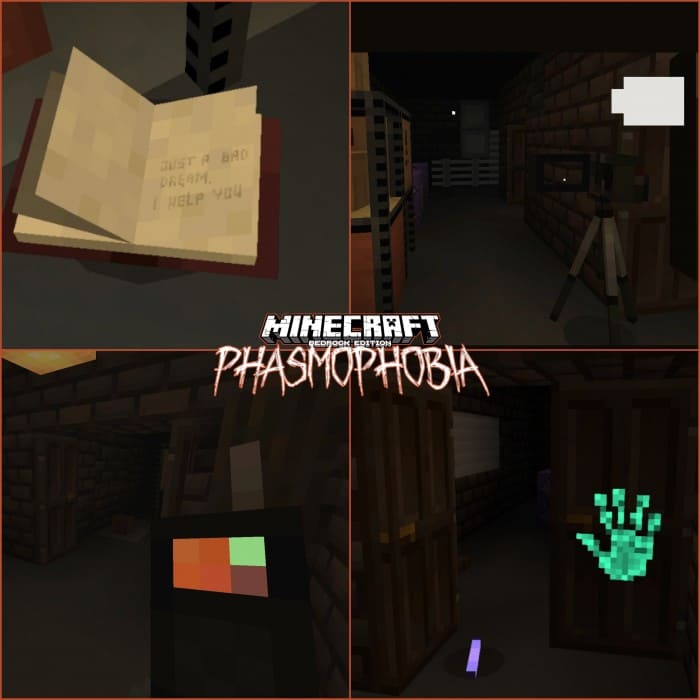 Types of ghosts
Banshee
Deogen
Demon
Jinn
Mare
Poltergeist
Phantom
Revenant
Shade
Thaye
Wraitht
A video camera is available in the van and captures the ghosts.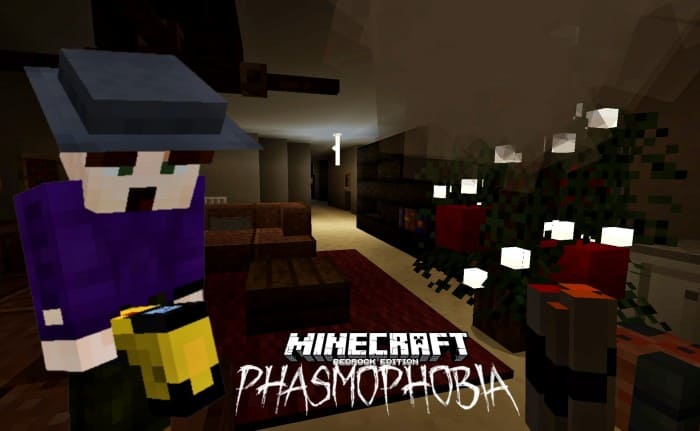 Latest Update; Version 3.8 (Released on December 19 2022)
What's New in This Update?
Exciting New Maps; Discover territories as we introduce two brand new locations. Tanglewood and Hillside. These new maps will bring challenges for you to conquer.
Revamped Ridgeview; We have completely transformed the Ridgeview map offering you a reimagined experience that promises excitement and thrills.
Enhanced Maps; Enjoy upgraded versions of the Willow and Westwater maps enriching your gameplay experience with improved features.
Ghosts with a Makeover; We have redesigned our ghosts to make encounters more engaging and realistic. With behavior and appearance get ready for a truly immersive ghost hunting adventure.
Embrace the Halloween Vibes; Immerse yourself in the atmosphere with newly introduced Halloween decorations that will add an extra layer of thrill to your gameplay.
System Redesign; Experience a new look and enhanced functionality across various systems including Power Supply, Lighting, Lobby and Store. We've made sure that everything is designed to enhance your gaming experience.
New Thrilling Scenarios; Test your skills and strategy with two new scenarios that we have added exclusively for you. Get ready for some challenges!
Beware of the Cursed Musicbox; Brace yourself, for an element of intrigue and danger as we introduce the cursed Musicbox item. Be cautious while exploring its powers!
Supported versions:1.19, 1.18;